News Archives .. Later news <2> <3>
---
27-10-2012 -- Richard Ashcroft to work with Damon Minchella
Richard will be in the studio with Damon Minchella
(Ocean Colour Scene, The Players ...)
early 2013 to work on his next solo album .. Damon tweeted on 27 Oct,
"Richard Ashcroft studio dates in the diary. What a great start to 2013 ..."
---
01-07-2012 -- Richard Ashcroft performed at Hop Farm Music Festival
The sun shone for Richard Ashcroft on Sunday night as he performed an amazing set on the final day of the Hop Farm Music Festival in Kent ... as reported by Chris Britcher in the Kent News
»»
"... And just when it needed a real kick up backside to finish with a flourish, Richard Ashcroft emerged and single-handedly changed the mood – and apparently the weather too – of the event.

The Sunday had been interspersed by heavy downpours to send the audience scattering, but by the early evening the former Verve frontman took to the stage and suddenly the sun came out. And there it stayed for the rest of the day.

A greatest hits selection drawn from the vaults of the Verve and his solo material, delivered with a voice bristling with power, clarity, intensity and conviction, it made it impossible to dislike. From the opening Sonnet, through the Drugs Don't Work, History, Lucky Man, Song for Lovers and rounded off with a rousing version of Bittersweet Symphony, for many he took the festival crown.

Perhaps, just perhaps, he would have made for a better headliner slot than Suede. ..."
---
18-06-2012 -- Richard Ashcroft working on new solo album
In an interview on BBC6 Radio on 18 June, Richard says he has started work on his next solo album.
"It's easy for me to drift into two or three years of doing nothing,"
he admits.
"I was in the studio last week with Pete from The Verve... we put down 25 ideas in two days which was fantastic... I've gone full circle, I'm back with my guitar, really stripping it down, writing good songs."
---
11-04-2012 -- Richard Ashcroft interview on BBC6 Radio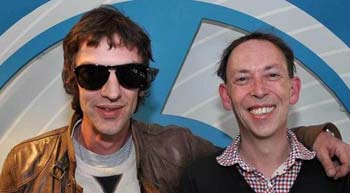 Richard talked to Steve Lamacq during an hour long show about The Verve's Urban Hymns - the radio show's featured 'classic album of the day', and the events surrounding it. Urban Hymns remains one of the top 20 best-selling British albums of all time.
The show opened with This Time, went to Sonnet on the break, came back with Bitter Sweet Symphony and finished with Richard's choice of Velvet Morning. Among other things Richard recounted how Liam Gallagher had contributed with the screaming on Come On and how he'd gone absolutely ballistic, and how there's no such thing as 'cool' - he was quite happy to have his Nan turn up at his gigs because she enjoyed his music!
---
14-10-2011 -- Richard Ashcroft performed in Dubai
Richard performed an acoustic set at the Sandance Music Festival in Dubai.
---
15-07-2011 -- New RPA Club track, Screw You, Screw Me released
This is the last of the four exclusive RPA Club tracks, and like Lead The Way, was very well received by fans.
---
14-06-2011 -- New RPA Club track, Lead The Way released
This was the long awaited exclusive track number three (of four) released as a download only for RPA club members. It didn't disappoint.
---
03-04-2011 -- Richard performed for the Japan Disaster Benefit
Richard performed 3 acoustic songs at 02 Academy, Brixton for the Japan Disaster Benefit on 03-04-2011.
Lucky Man was broadcast on Ch4, 5 May as part of the highlights show.

The whole event was broadcast live on Xfm Radio and raised over £150,000.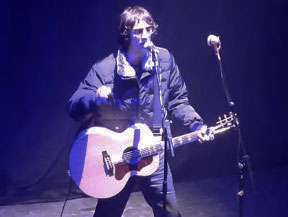 It was the brainchild of Liam Gallagher who headlined the gig with his new band Beady Eye.
Richard Ashcroft played Sonnet, Lucky Man and This Thing Called Life immediately after Primal Scream and before headliners Beady Eye. Paul Weller, Kelly Jones, The Coral and Graham Coxon were also on the bill for this one-off charity concert in aid of the British Red Cross Japan Tsunami Appeal.

Listen here to what Richard had to say shortly before his performance:
Watch Richard perform all three songs »
---
01-04-2011 Richard Ashcroft at Sirius XM Studios, NYC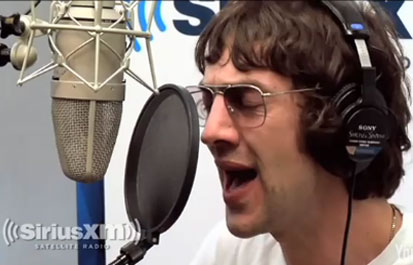 Editor-in-Chief of staythirstymedia.com Sarah L. Myers, was a guest as Kristine Stone interviewed Richard Ashcroft for the Spectrum at Sirius XM Studios in New York on 21 March (broadcast was on 1 April).
www.staythirstymedia.com [interview with sound clips] »
Watch the two acoustic videos [Space And Time and Are You Ready?] »
---
31-03-2011 -- ".. I've got so many pieces of music and songs waiting to be heard"
"...I do believe the record companies have got something to answer for why certain artists take so long in between records. If I was a painter, I would have hundreds of finished and unfinished canvases in my studio, waiting for people to see, and it is the same with my music. I've got so many pieces of music and songs waiting to be heard. You can take the Prince approach and just put them out, but that sort of engulfs people and swamps them in your stuff... they can't cope.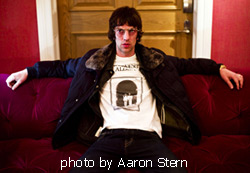 "...I don't believe people listen to albums like we used to do. Albums were seen as one piece, and the whole thing would be played. Kids don't play the whole album anymore. Kids don't even play the whole track. You're lucky if your whole song is listened to before someone skips to something else. I think release dates for bands are definitely going to come back to once a year because the album is going to be the supporting tool for the tour, and they need something to hang that tour around. The tour hasn't been booked to promote a record that they are going to sell a few million copies of. They're going to make their living by playing live—because no one buys music anymore, folks. [laughs]"
31-03-2011 - Excerpt from an interview by Aaron Stern on www.interviewmagazine.com »
---
24-03-2011 -- Villa Victoria Center for the Arts, Boston
Richard Ashcroft performed a fully acoustic solo set opening with History and closing with Bitter Sweet Symphony. setlist »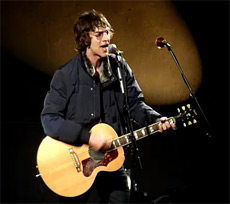 Unknown to fans, the concert was also being used as a video shoot for Jim Beam's 'Live Music Series'. Jim Beam had secured around half the tickets for his clients (who didn't show up) and was the reason for the poor attendance. This didn't detract from the performance however, as one reviewer (from The Boston Phoenix website) states, "Ashcroft was certainly alone up there on the remodeled church's towering stage, but the campfire vibe and intimacy provided by the Villa, his acoustic guitar, and a seasoned crowd of Verve supporters, made the show feel like some sort of exclusive party for those who've stuck with Mad Richard during a somewhat turbulent solo career." more »
For a limited time a 40 minute video of this show was broadcast on the Jim Beam website.
themusic.fm [review] »
The best youtube videos for this show »
---
23-03-2011 -- Bowery Ballroom, NYC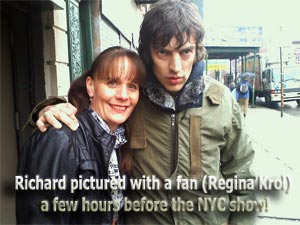 Richard Ashcroft was backed by The United Nations of Sound, and reviews were glowing for this show at the Bowery Ballroom where nine songs were performed from their latest album release in the US - United Nations of Sound - with Good Lovin' having it's first live airing! Opening with Are You Ready? and closing with Break The Night With Colour (with an extended jam at the end), Richard also performed requests from fans and dedicated Lonely Soul to D J Shadow and David Axelrod. setlist » review »
---
22-03-2011 -- Richard Ashcroft on Late Night with Jimmy Fallon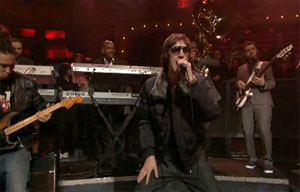 North American fans got to see Richard Ashcroft & The United Nations of Sound perform Are You Ready? (supported by house band The Roots) on Late Night With Jimmy Fallon on 22 March, and This Thing Called Life exclusively on latenightwithjimmyfallon.com.
22-03-2011 -- Richard Ashcroft interview and performance on RXP.FM Radio.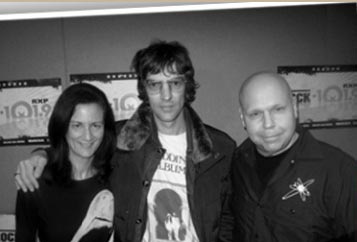 Richard performed an acoustic set of three songs for radio RXP.FM on 22-03-2011
22-03-2011 -- United Nations of Sound
The album was released in the US on 22-03-2011.
online.wsj.com [review] »
---
04-03-2011 -- "My aim is to get more stuff out..."
...he [Richard Ashcroft] says, "because there's so much more and I really wouldn't like to be judged on solely what I've done so far. I haven't even really scraped the surface of what I'd like to do. My goal for the next album is to step on and somewhere fresh from (The United Nations of Sound), perhaps as closed to stripped naked as possible. That's probably what interests me after this."
And he doesn't rule out working again with The Verve, which last reunited for 2008's Forth and select live dates. "It's pretty much an open-ended thing," Ashcroft says. "When we were recording ('Forth'), I don't think anybody was thinking we were going to do something else straightaway. From my angle, it didn't all go the way I would've wished, so that affects your decision about when you'd work together again. So with the future, who knows? I'm enjoying seeing whatever comes next, and I'm not necessarily making big plans of bold statements about The Verve or anything else. We'll just have to see what happens."
Excerpt from a report on www.billboard.com (by Gary Graff, Detroit - March 04 2011)
---
03-03-2011 -- The Adjustment Bureau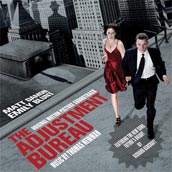 Richard Ashcroft and composer Tom Newman (10 times Oscar-nominated) wrote and performed a new song, Future's Bright for the opening of the forthcoming sci-fi film The Adjustment Bureau, starring Matt Damon, Emily Blunt and Terence Stamp. The film is based on a short story by Philip K. Dick.
Director George Nolfi selected images submitted by fans for an original video set to the song 'Future's Bright'. Watch here »
The film opened on 3 Mar in the US and UK.
A soundtrack album for the film is available on iTunes (US)
Listen to Future's Bright:
---
23-02-2011 -- US Promo video for Are You Ready?
Giorgio Testi was commissioned for the production of the US release of the Are You Ready? promo video. It was created from live footage from the show at Shepherd's Bush Empire on 16 June 2010.
Says Giorgio:
"The idea was to make it very cinematic whist keeping its live vibe. So I went for loads of slow motion shots, dolly tracks on stage, film grain, and darkness. I tried to keep the edit pace very slow and classic, using the majority of shots coming from camera angles close to the artists, to make this performance very intimate.

"We decided to apply an extreme crop on the image and use some split screen here and there, inspired by the timeless live performance by The Who at Woodstock." watch here »
---
13-01-2011 -- Killing Cancer Charity Concert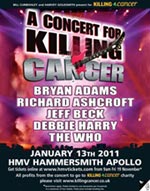 Richard Ashcroft performed four acoustic songs (for setlist see gigography) at a charity concert against cancer alongside The Who, Jeff Beck, Debbie Harry & Bryon Adams at The Apollo, Hammersmith in London.
Richard was first on the bill and between songs acknowledged the recent death of his good friend Rex Sargeant, RIP. He also said he was honoured to be there.
---
07-12-2010 -- Richard performs intimate gig at Union Chapel, Islington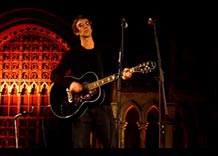 The Union Chapel, Islington - a beautiful setting for a wonderful evening - Richard Ashcroft wowed his fans with a fully acoustic and perfect performance, watched from the front pew by his wife Kate. Richard thanked his fans for coming out in the cold and quipped, "There's no sheep in the room tonight!" And he urged fans to keep up with 'brain' on his website. He took requests from the crowd (for setlist see gigography), and closed the show with an incredible C'mon People which had the whole congregation on their feet! Richard's voice was on top form and had never sounded better, proving he doesn't need a band, just his voice and a guitar. A nice touch was the Christmas Card, individually signed by Richard, for each member of the RPA Club.
---
01-11-2010 -- Richard signed to US Record label Razor & Tie
Beka Tischker, vice president of A&R at Razor & Tie, said, "It's an honour to work with someone as esteemed as Richard. Besides being one of the seminal figures of modern British rock music, his music has touched my life. It's the icing on the cake in this business when you get to work with someone who soundtracked important parts of your life."
---
15-10-2010 -- Second RPA Club exclusive download released
The long awaited second exclusive RPA club members' download track was released to club members today - called Here We Go Again (lyrics available on the lyrics page).
---
07-08-2010 - 08-08-2010 -- Summer Sonic, Japan
The United Nations Of Sound wrapped up their international tour with two dates at Summer Sonic in Japan.
---
04-08-2010 -- Perth gig cancelled
The Perth show (planned for 4 August) was cancelled a few days beforehand. The reason given was commitments in Japan.
---
01-08-2010 -- Richard walks off stage in Queensland after only one song
At the Splendour In The Grass festival Richard Ashcroft was forced to leave the stage after only one song due to voice problems. It was rumoured he'd stormed off because of a low turn-out, but earlier in the day he'd cancelled all press interviews for health reasons.
The following is the official statement by Jazz Summers, Richard's manager:
"After three gigs in two days, including a two hour show in Sydney on Saturday night, we knew Richard would have to look after his voice for the Splendour in the Grass set so we cancelled all promotional activity for Sunday. It wasn't until he got on stage on Sunday night at Splendour that he realised his voice wouldn't make it through the set.

"I was watching the show from the sound desk and was surprised when he appeared to be missing the high notes on his opening track 'Are You Ready?'. I could sense his total frustration at the situation.

"Immediately following the show, Richard sought advice from a doctor and was ordered not to speak or sing for 72 hours. Today he is consulting a specialist in Queensland"
---
30-07-2010 -- RPA & The UNOS go "down under"
The band kicked off two dates in Australia in Melbourne and Sydney on 30 & 32 July respectively. A long awaited Australian visit for Ashcroft fans, the shows were well received by fans and critics alike.
---
25-07-2010 -- United Nations Of Sound hits the charts
The album charted No.20 in the U.K. charts.
---
19-07-2010 -- United Nations Of Sound is released
Debut album United Nations Of Sound by RPA & The United Nations Of Sound was released. Born Again, the second track on the album, was also released as a single for download only.
---
13-07-2010 - 26-07-2010 -- Richard appears on a series of radio shows in London
Richard Ashcroft appeared on five radio shows over a two week period starting with BBC-6 Radio on 13 July, and two more each on Absolute Radio and XFM. (see gigography for more details, setlists etc.)
---
05-06-2010 -- The European tour kicks off in Ancona, Italy
The European tour kicked off in Ancona, Italy Sat 5 June and fan reviews called it "AMAZING" - with 10 songs aired from their new album and two encores, one of which was an acoustic solo set of 3 songs. The tour continued in Paris, Berlin, Cologne, Amsterdam, Manchester and finished off at Shepherd's Bush in London on 16 June. Songs old and new went down well with fans, with solo favourites such as Brave New World, Science Of Silence, C'Mon People, Lonely Soul, Check The Meaning, Music Is Power, A Song For The Lovers and Break The Night With Colour as well as plenty of Verve classics such as History, Weeping Willow, So Sister, The Drugs Don't Work, Sonnet, Lucky Man and Bitter Sweet Symphony.
---
09-04-2010 -- RPA Club launched
RPA club was launched for an annual fee of £30. In return fans receive the download only track 'Third Eye', 3 further download tracks during the next 12 months, an exclusive members only t-shirt, exclusive shows for club members, and presales on gig tickets.
---
18-01-2010 -- Are You Ready?
The video for Richard Ashcroft's new song, Are You Ready? (with newly formed band RPA & The United Nations of Sound) was made available to watch exclusively on NME.COM. It was also aired for the first time on Radio One's Zane Lowe show in the evening.
The song is to be included on the new album (working title Redemption).
Talking to Yahoo! Music, No. I.D. said the album is not a traditional Rock record. "It's like a gumbo fusion, it's stuff on there like the Blues. There is a little more aggressive drums than your average rock album", he said.
---
18-12-2009 -- Richard's new single 'The Journey' released for download
Richard Ashcroft's new song The Journey was released for download on iTunes, and is the theme music for a short film of the same name by Richard Jobson and Emma Thompson about the realities of sex trafficking. All proceeds go to the Helen Bamber Foundation.
---
17-12-2009 -- RPA & The United Nations of Sound !
No I.D. is to produce Richard Ashcroft's forthcoming solo album (as yet untitled) that is due out in April 2010. Richard was impressed with No I.D.'s production of Jay-Z's D.O.A. and an interview where No I.D. spoke of how some producers destroy albums just for the sales. Richard's newly formed band RPA & The United Nations Of Sound went in and recorded between 20-30 songs in New York, Los Angeles and London. String arrangements are by Benjamin Wright, the man responsible for the strings on Michael Jackson's Off The Wall, and engineered by Grammy Award-winning Motown legend Reggie Dozier (Outkast, Stevie Wonder, Marvin Gaye). Other musicians featuring on the album include Mary J Blige's guitarist Steve Wyreman, Paul 'DW' Wright (bass), and Derrick Wright (drums).
---
Mid 2009 -- The Verve Split.... again.... ?
Never officially announced, rumours gathered momentum of another Verve split.
---
25-08-2008 -- Richard performed solo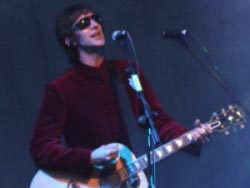 Richard Ashcroft performed a stunning solo set at The Last Days Of Summer Festival at Stowe House in Buckinghamshire. Although Richard's performance was followed by Athlete and headliners Supergrass, Richard was undeniably the star of the show!
Performed in the grounds of one of the most expensive private schools in England, Richard joked about his old school using shiny toilet paper for tracing paper, and then sung his own short version of Working Class hero.
---
05-08-2008 -- Richard's solo career to continue
During an interview with Zane Lowe at BBC Radio 1's Maida Vale Studios, Richard Ashcroft revealed that he had every intention of continuing with his solo career, and saw no reason why it shouldn't continue alongside The Verve.
---
06-07-2007 -- News continues on The Verve Online
Visit The Verve Online news archives for continuing news of The Verve (reformed).
---
26 June 2007 -- The Verve reunion was announced.
It was announced that Richard Ashcroft, Nick McCabe, Simon Jones and Pete Salisbury would reunite once more to reform The Verve. It came as a huge shock to fans as only earlier in the year Richard Ashcroft was quoted as saying "There would be more chance of getting all four Beatles together on stage than a Verve reunion". Dates for a November tour were announced - 2 each for Glasgow, Blackpool and London, and an album promised for the end of the summer. Simon Tong did not rejoin fellow bandmates, but chose to continue to work with The Good, The Bad and The Queen.
---