Latest News
site last updated 7 Dec 2015
»»
---
Richard Ashcroft's autumn tour 2015
Richard had three successful tour dates this autumn performing acoustic sets at:
Zermatt Unplugged in Zurich, Switzerland on 22 October Setlist »
The BIME Live festival in the Bilbao Exhibition Centre (BEC), Barakaldo, Spain on 31 October Setlist »
Corona Capital in Mexico City on 22 November Setlist »
---
Richard Ashcroft's forthcoming album
Richard has now changed management and his forthcoming album is still being worked on. Steve Kutner, his new manager, says, "There will be a few impromptu acoustic gigs to work in some of the tunes but they will be in far off places."
---
STILL NO NEWS! - 22-05-2015
Fans are still desperately waiting for Richard Ashcroft's next album and/or tour. As soon as news becomes available it will be posted here. Come On Richard!
---
Richard Ashcroft in Dubai - 14-11-2014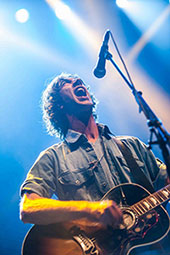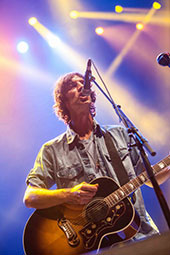 Richard performed on the main stage in Dubai at the Media City Amphitheatre's first ever Party In The Park festival, on 14 November. Also performing were Lily Allen, The Ting Tings and Freshly Ground.
---
Richard Ashcroft's first ever recording with his pre-Verve band Rain Garden has come to light - 22-07-2013
An ex-teacher at Winstanley College in Wigan where Richard attended, has made available on his blog what must be the first ever recording of Richard singing (in the style of Morrissey?! ) The song is called Documentary and was recorded with Richard's early band "Rain Garden", which also included Nick McCabe, when Richard was just 17.
"Richard was not in one of my A level classes (and by all accounts, including his own, he wasn't easy to teach) but I spent time with him and his friends when they were starting out in bands, mainly to help them make videos. We had an optional class called 'Video Production' that I taught and they made a hilarious video charting the rise of a fictitious band through the ages. This consisted of creating mock-ups of legendary music videos: The Beatles' Help (which we filmed in the snow) and All You Need is Love- lots of people crammed into a room sitting on the floor; songs by The Sex Pistols and The Happy Mondays also featured. Somewhere, there is a tape in someone's attic…

I also spent time collecting recordings of students' original music, and making a few recordings of them myself in the college studio. One of the songs I recorded was 'Documentary' by Richard's band 'Rain Garden' a forerunner to the Verve that also included Nick McCabe." -- headguruteacher 22-07-2013
---
Richard Ashcroft performed at the Latitude Festival - 20-07-2013
Richard performed an acoustic set at the Latitude Festival on the BBC6 Music Stage. Although unfortunately there was no live coverage of his performance on the radio, highlights were shown via the BBC red button and also on the 6 Music website.
---
Richard Ashcroft has a new single scheduled for release in September 2013
Richard spoke to Lauren Laverne on 9 July 2013 on BBC6 Music Radio about his forthcoming performance at the Latitude Festival and he divulged that a single was due to be released in September, ahead of his long awaited forthcoming album. listen to the interview here »»
---
Richard Ashcroft performed an acoustic set in Dubai - 15-03-2013
Another great performance by Richard in Dubai .. according to Time Out:
"Richard Ashcroft doesn't do humble: 'Legend is an overused term,' he told the Atlantis crowd, 'but in my case it's totally appropriate'. After an hour-long solo set packed with Verve classics including requests from the crowd, and climaxing with 'Bittersweet Symphony', we found it hard to argue."
---
Richard Ashcroft to support Noel Gallagher in Dubai on March 15, 2013
Richard will be supporting Noel with an acoustic set at Live At Atlantic, Dubai, on Friday 15 March. In an interview with Rob Garratt for Time Out, 5 March - when asked whether there was any chance of a tune together, Noel replied:
"You never know, you never know. But I'm very, very interested to hear what he's doing, because he's made a new album, and I really liked his last. It'll be great to see him and give him [abuse] about Man United, because he's one of those Man United fans that doesn't live in Manchester. The last time I saw him he was on sparkling form, so I'm looking forward to it."
Read more of the interview with Noel here »»
---
Waiting for Richard Ashcroft, and solo album No.5...
With Richard now in the studio, fans are eagerly awaiting his 5th solo album, hopefully later this year. One fan - CheckTheMingo10 - has made a video chronicling Richard's solo single releases from A Song For The Lovers in 2000 to Future's Bright in 2011.
---
Richard Ashcroft to work with Damon Minchella
Richard will be in the studio with Damon Minchella
(Ocean Colour Scene, The Players ...)
early 2013 to work on his next solo album. Damon tweeted on 27 Oct,
"Richard Ashcroft studio dates in the diary. What a great start to 2013 ..."
---
Richard Ashcroft performed an amazing set at Hop Farm Music Festival, Kent on 01-07-2012
The sun shone for Richard Ashcroft on Sunday night as he performed an amazing set on the final day of the festival ... as reported by Chris Britcher in the Kent News
»»
"... And just when it needed a real kick up backside to finish with a flourish, Richard Ashcroft emerged and single-handedly changed the mood – and apparently the weather too – of the event.

The Sunday had been interspersed by heavy downpours to send the audience scattering, but by the early evening the former Verve frontman took to the stage and suddenly the sun came out. And there it stayed for the rest of the day.

A greatest hits selection drawn from the vaults of the Verve and his solo material, delivered with a voice bristling with power, clarity, intensity and conviction, it made it impossible to dislike. From the opening Sonnet, through the Drugs Don't Work, History, Lucky Man, Song for Lovers and rounded off with a rousing version of Bittersweet Symphony, for many he took the festival crown.

Perhaps, just perhaps, he would have made for a better headliner slot than Suede. ..."
Photo by Adam Page
Photo by Adam Page
Photo by Adam Page
Photo by Adam Page
Photo by Adam Page
Photo by Adam Page
Photo by Adam Page
Photo by Adam Page
Photo by Adam Page
Photo by Adam Page
Photo by Adam Page
Photo by Adam Page
Photo by Adam Page
Horizontal Image Scroller by WOWSlider.com v2.3
And it's good to see Pete Salisbury back with him on drums!
---
Richard Ashcroft working on new solo album
In an interview on BBC6 Radio on 18 June 2012, Richard says he has started work on his next solo album.
"It's easy for me to drift into two or three years of doing nothing,"
he admits.
"I was in the studio last week with Pete from The Verve... we put down 25 ideas in two days which was fantastic... I've gone full circle, I'm back with my guitar, really stripping it down, writing good songs."
---
Richard Ashcroft talks to Steve Lamacq on BBC6 Radio on 11-04-2012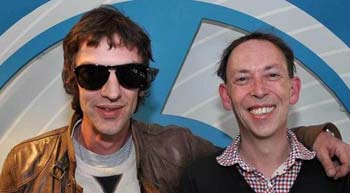 Richard talked to Steve during an hour long show about The Verve's
Urban Hymns
- the radio show's featured 'classic album of the day', and the events surrounding it. Urban Hymns remains one of the top 20 best-selling British albums of all time.
The interview is available to listen to on the BBC6 website »»
The show opened with
This Time
, went to
Sonnet
on the break, came back with
Bitter Sweet Symphony
and finished with Richard's choice of
Velvet Morning
. Among other things Richard recounted how Liam Gallagher had contributed with the screaming on
Come On
and how he'd gone absolutely ballistic, and how there's no such thing as 'cool' - he was quite happy to have his Nan turn up at his gigs because she enjoyed his music!
---
Richard Ashcroft performed at the Sandance Music Festival in Dubai on 14 October 2011
---
New RPA Club track, Screw You, Screw Me released on 15-07-2011.
This is the last of the four exclusive RPA Club tracks, and like Lead The Way, was very well received by fans.
---
New RPA Club track, Lead The Way released on 14-06-2011.
This was the long awaited exclusive track number three (of four) released as a download only for RPA club members. It didn't disappoint.
---
Richard Ashcroft performed 3 acoustic songs at 02 Academy, Brixton for the Japan Disaster Benefit on 03-04-2011.
Lucky Man was broadcast on Ch4, 5 May as part of the highlights show.

The whole event was broadcast live on Xfm Radio and raised over £150,000.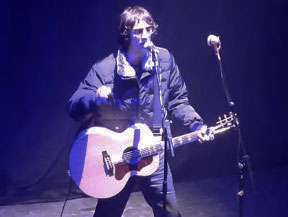 It was the brainchild of Liam Gallagher who headlined the gig with his new band Beady Eye.
Richard Ashcroft played Sonnet, Lucky Man and This Thing Called Life immediately after Primal Scream and before headliners Beady Eye. Paul Weller, Kelly Jones, The Coral and Graham Coxon were also on the bill for this one-off charity concert in aid of the British Red Cross Japan Tsunami Appeal.

Listen here to what Richard had to say shortly before his performance:
Watch Richard perform all three songs »
You can also listen to Richard's performance on the player at the top of the menu-bar opposite.
---
Richard Ashcroft at Sirius XM Studios, NYC 01-04-2011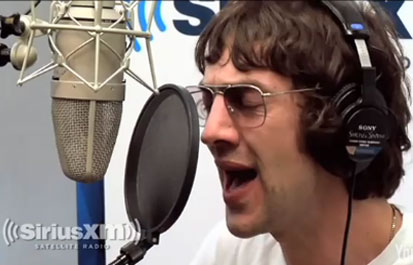 Editor-in-Chief of staythirstymedia.com Sarah L. Myers, was a guest as Kristine Stone interviewed Richard Ashcroft for the Spectrum at Sirius XM Studios in New York on 21 March (broadcast was on 1 April).
www.staythirstymedia.com [interview with sound clips] »
Watch the two acoustic videos [Space And Time and Are You Ready?] »
---
Richard Ashcroft: ".. I've got so many pieces of music and songs waiting to be heard"
"...I do believe the record companies have got something to answer for why certain artists take so long in between records. If I was a painter, I would have hundreds of finished and unfinished canvases in my studio, waiting for people to see, and it is the same with my music. I've got so many pieces of music and songs waiting to be heard. You can take the Prince approach and just put them out, but that sort of engulfs people and swamps them in your stuff... they can't cope.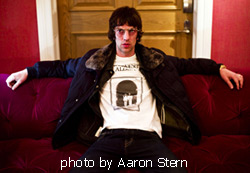 "...I don't believe people listen to albums like we used to do. Albums were seen as one piece, and the whole thing would be played. Kids don't play the whole album anymore. Kids don't even play the whole track. You're lucky if your whole song is listened to before someone skips to something else. I think release dates for bands are definitely going to come back to once a year because the album is going to be the supporting tool for the tour, and they need something to hang that tour around. The tour hasn't been booked to promote a record that they are going to sell a few million copies of. They're going to make their living by playing live—because no one buys music anymore, folks. [laughs]"
31-03-2011 - Excerpt from an interview by Aaron Stern on www.interviewmagazine.com »
---
Villa Victoria Center for the Arts, Boston 24-03-2011
Richard Ashcroft performed a fully acoustic solo set opening with History and closing with Bitter Sweet Symphony. setlist »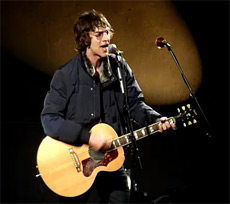 Unknown to fans, the concert was also being used as a video shoot for Jim Beam's 'Live Music Series'. Jim Beam had secured around half the tickets for his clients (who didn't show up) and was the reason for the poor attendance. This didn't detract from the performance however, as one reviewer (from The Boston Phoenix website) states, "Ashcroft was certainly alone up there on the remodeled church's towering stage, but the campfire vibe and intimacy provided by the Villa, his acoustic guitar, and a seasoned crowd of Verve supporters, made the show feel like some sort of exclusive party for those who've stuck with Mad Richard during a somewhat turbulent solo career." more »
For a limited time a 40 minute video of this show was broadcast on the Jim Beam website.
themusic.fm [review] »
The best youtube videos for this show »
---
Bowery Ballroom, NYC 23-03-2011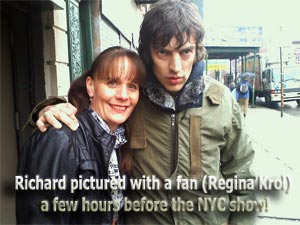 Richard Ashcroft was backed by The United Nations of Sound, and reviews were glowing for this show at the Bowery Ballroom where nine songs were performed from their latest album release in the US - United Nations of Sound - with Good Lovin' having it's first live airing! Opening with Are You Ready? and closing with Break The Night With Colour (with an extended jam at the end), Richard also performed requests from fans and dedicated Lonely Soul to D J Shadow and David Axelrod. setlist » review »
The best youtube videos for this show »
---
Richard Ashcroft on Late Night with Jimmy Fallon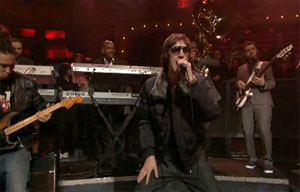 North American fans got to see Richard Ashcroft & The United Nations of Sound perform Are You Ready? (supported by house band The Roots) on Late Night With Jimmy Fallon on 22 March, and This Thing Called Life exclusively on latenightwithjimmyfallon.com.
---
Richard Ashcroft interview and performance on RXP.FM Radio.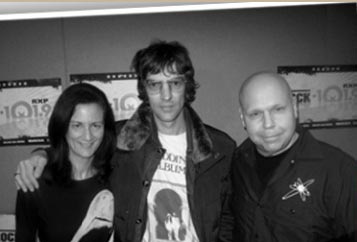 Richard performed an acoustic set of three songs for radio RXP.FM on 22-03-2011
Lucky Man, This Thing Called Life, Music Is Power

---
United Nations of Sound
The album was released in the US on 22-03-2011.
online.wsj.com [review] »
---
For older news visit the Archives here »